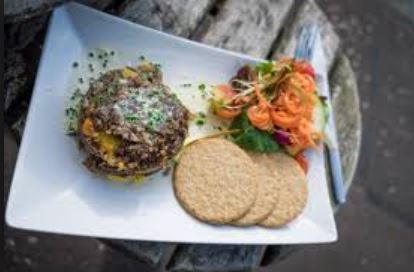 The historic architecture of Edinburgh is reason enough to make the trip to Scotland, but many often forget about the local food scene. You may wish to skip the haggis, but the whiskey and selection of deep-fried everything are near possible to resist. Here's a guide for making the most of your main meals when you spend a day in Edinburgh.

Breakfast
If you like to start your day with a lovely cup of tea, then the vast array of options at Eteaket Cafe will get you very excited. The staples, such as a traditional black breakfast tea are here, but the more adventurous may like to try the gin-infused tea from the Isle of Mull. There are also cold brews that pair perfectly with a tattie scone (made from griddled potato) to fuel you for the big day of eating (and adventuring) that awaits you.

Lunch
Head down the picturesque Victoria Street for a touch of shopping at independent boutiques, and be sure to make a stop at IJ Mellis Cheese Store, a family-owned and operated store where you can sample a tasting plate of local cheeses and wine pairings. Be sure to save room for dinner!
You can then spend the afternoon with a coffee at Brew Lab, where you can even take a cold press class before embarking on a sightseeing walking tour of Edinburgh.

Dinner
Stop in at The Bar at Summerhall for a drink before dinner. This creative space is candlelit and perfect for a gin. It's also right near Summerhall Brewery if local brews are more your style.
From here it's over to the Edinburgh Food Studio, which offers a seasonal degustation menu for a cheap price. What began as a food research hub is now a restaurant with a multi-course menu. The menu rotates and only offers local, seasonal and sustainable dishes. You'll eat in communal-style dining at long tables, and a seven-course meal is just £50!
The menu is read through by the chef, and the vibe is very relaxed and communal. Make some new friends, enjoy some delicious local food and then walk back to your accommodation to relax with your full stomach.

Vegan Edinburgh
The highlight of your day will undoubtedly be Land of Bourbon, which focuses exclusively on vegan food. It's a fantastic place to eat for those who prefer not to eat animals (or animal products). Edinburgh is following suit with many other forward-thinking locations around the world by offering many vegetarian and vegan options throughout the city, so you'll have plenty to eat even if you're not a meat-eater.
Edinburgh may not be a foodie's first thought for a travel destination, but it shouldn't be overlooked. There are so many wonderful eateries and bars to explore, so be prepared to bring back a few extra kilos along with your other souvenirs!