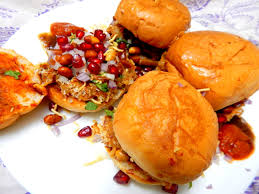 Mumbai is the home of Bollywood and the financial capital of India. The city is also a true food paradise. Visit the city and you will find street food in every corner. From the traditional Marathi breakfast to South Indian sambhar, there is something to suit everyone's taste.
Vegestables make most of the dishes and usually prepared from scratch, prepared right in front of you. You will love the fact that they do not use any processed chemicals or additives so you know that what you are eating is totally safe and delicious.
Here are some of Mumbai's top street foods:

Vada Pav
This classic Mumbai potato dish consists of a deep fried potato dumpling. It is stuffed in traditional pav (bread) with coriander chutney, tamarind sauce, and chilli powder. Vada Pav is just like fish and chips in England so you know the locals are totally proud of this food. If you are in Mumbai and you see a crowd around a cart with a heavy cast iron pan, you can make certain that it is a vada pav vendor.

Dabeli
Dabeli which originally came from Kutch, is also known by its name Kutch dabeli. This spicy snack consists of boiled potatoes made blended with a special spice called dabeli masala, an essential component made from dried coconut, red chillies, cloves, whole spices, and bay leaves.

Bread Pakora
The locals in Mumbai love anything deep-fried which is why this bread pakora is popular. This bread snack, stuffed with a spicy vegetable mixture, then dipped in a gram flour batter, and deep fried until golden.